neurojs
neurojs¶
The creator announced depreciating his project and recommended TensorFlow.js as of April 2019. There were maintenance updates over the last twelve months. We expect this project will be moving into the inactive phase.
| | |
| --- | --- |
| Logo | |
| Website | N/A |
| Repository | |
| Byline | A JavaScript deep learning and reinforcement learning library. |
| License | MIT |
| Project age | 6 years 2 months |
| Size score (1 to 10, higher is better) | 1.25 |
| Trend score (1 to 10, higher is better) | 3.0 |
Education Resources¶
No recent documentation available for project.
Git Commit Statistics¶
Statistics computed using Git data through November 30, 2022.
| Statistic | Lifetime | Last 12 Months |
| --- | --- | --- |
| Commits | 119 | 0 |
| Lines committed | 165,058 | 0 |
| Unique committers | 6 | 0 |
| Core committers | 3 | 0 |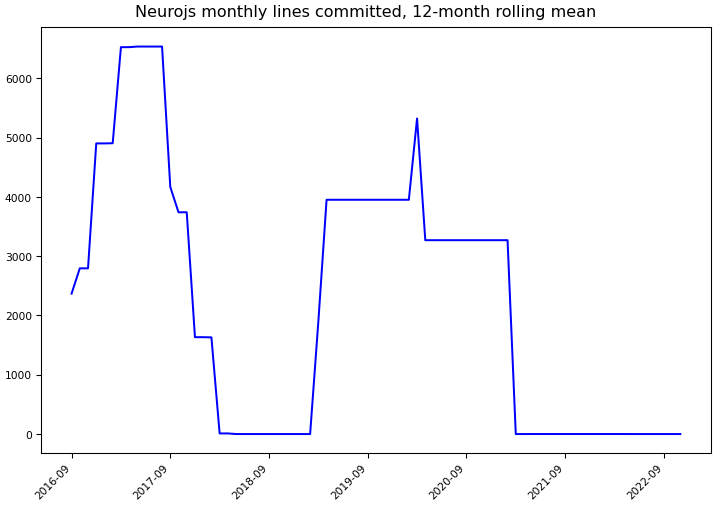 Similar Projects¶
| Project | Size Score | Trend Score | Byline |
| --- | --- | --- | --- |
| | 4.75 | 3.0 | Lightweight Deep Learning Framework |
| | 3.5 | 3.0 | Lightweight Deep Learning Framework |
| | 3.75 | 5.0 | A modern development environment for deep learning |
| | 5.25 | 2.5 | Theano is a Python library that allows you to define, optimize, and evaluate mathematical expressions involving multi-dimensional arrays efficiently. |
| | 4.75 | 2.0 | Machine learning, computer vision, statistics and general scientific computing for .NET |